Add to Favorites
Top 10 Factors of SEO (Search Engine Optimization)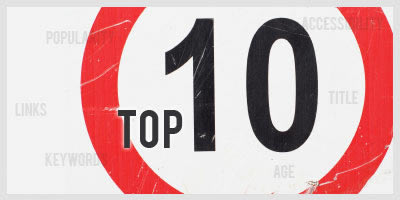 Here's a clean, simple and easy list of what I believe are the top ten factors of search engine optimization. Using these effective search engine optimization factors and strategies, an SEO campaign can hit the ground running. It's safe to say that the following SEO strategies and solutions have been proven to be effective in just about every marketing campaign.
Proper Keyword Use in the Title Tag - Through my personal experience I have seen each and every page's ranking within a web site and operation be strongly effected by the title tag.
Age of Site - It has been proven over and over again that a web site that has been around for a long time holds much more weight in a search engine then a newbie.
Inbound Links Anchor Text - The text of a link and the text that surrounds a link pointing to a web page plays a strong role in the page's ranking.
The Link Popularity of a Website - The amount of links or votes a website has plays a strong role in it's success on search engines such as Google, Yahoo and MSN. This is known by many to be the most important and most powerful part of a SEO campaign.
Link Flow Within a Website - The way you link pages to other pages within your website is known to have a strong effect on it's rankings. A website's link flow plays a strong role in it's accessibility.
The Relevance of Inbound Links - As one of the most important parts of an SEO campaign the links or votes that you have obtained and wish to obtain need to be relevant to your web site and operations.
The Power of Inbound Links - The more powerful the inbound link is, the better! Obtaining powerful and relevant inbound links can be very hard and time consuming but always pays off in the end.
Proper Keyword Use Throughout The Site - As many say, content is KING! Having professional content with the proper keywords and related keywords will help get your website ranked faster and easier. Search engines strive to give their users the best of the best and they have many algorithms for detecting professional and well written content for every industry.
Accessibility - The more accessible the site is the better it will rank, no doubt.
Overall Exposure Online - If your web site or operation has been properly marketed online through Social Media and other outlets it will most definitely rank well.
Leave a comment