Add to Favorites
The Future Is In Your Pocket

Jan 24, 2012
by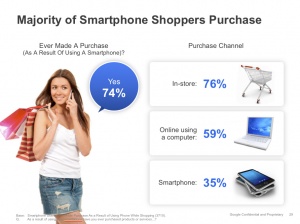 (Image source: GoogleMobileAds.blogspot.com)
How the Mobile Web is altering the way your customers find you
In April of 2011 Google conducted an independent research study it called "The Mobile Movement: Understanding Smartphone Users". The study was focused on mobile consumer behavior and the results have helped inform the we think about the web today.

The study was informative and incredibly illuminating we recommend that you take a look at it. For the purposes of this article we're going to focus on a few key bits of data and how they relate to your business, but we do invite you to look at the full study.
81% of smartphone users access the Internet on their mobile devices
59% use the Internet on their phones while waiting
77% of the websites visited are Search Sites
9 out of 10 Searchers take action as a result of a smart phone search
A New Customer Is Right Around the Corner
There are more people who own smartphones today than there were a year ago. This increase in customer adoption of technology means that users want a persistent connection to the web. In fact, according to Google's study 43% of mobile users were willing to give up beer in exchange for Internet usage on their mobile phones.

So what are these "always on" and "always connected" users searching for? In a word: Everything. They're finding places to eat, shop, and get a massage. They're comparing prices while standing in the aisles of stores and looking for a locksmith at 3am while standing outside of their apartment.

In short: They are seeking, finding and acting upon information.
What Does This Mean For Your Business?
For starters it means that SEO is becoming critical for business owners looking to generate more foot traffic into their businesses. Making yourself findable has always been Step One for businesses looking to develop an online presence. Doing things like making sure that the physical address to your business is accurate on Google Places and other search engine is crucial for maintaining findability.

Business owners should also realize that users are constantly searching for better bargains, so competing on price alone might not always be advantageous. On the other hand, people go out of their way for a better experience. Users tend to trust and rely on reviews posted on social communities like Yelp!, FourSquare and Facebook to provide them with information about a business before actually setting foot in the door. This highlights the importance of social media in your marketing and web strategy.

It also points to the fact that the barriers to your customers are slowly being blown away. Increasingly, users are searching for a product, experience or service while on the go. Which is to say that mobile is only going to increase as the web moves forward. With Google's voice search and Apple's Siri being released a few months ago there's increased interest in mobile as a search platform.

The bottom line is this: People are looking for your business. The question is: can they find you?
Leave a comment