Add to Favorites
Welcome to Vine: Twtitter's New InstaVideo App

Jan 25, 2013
by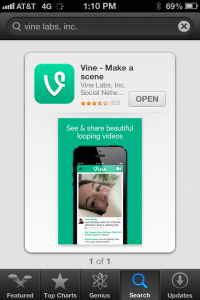 Twitter's new brainchild known as 'Vine,' has quickly earned the description of being 'like Instagram but for videos.' According to Apple's app store, features include:
Unlimited Uploads
Instantly post on your Vine... then share via Twitter or Facebook
Find/Follow Friends
Use of hashtags to explore posts
Much more... (?)
To give a bit more detail, users can either register via e-mail or an existing Twitter account after which they will be able to start sharing their own video clips... Well, so long as the clip is six seconds or less.
So how does it work?
First, Vine lacks a record button. You simply hold your finger to the screen and release after you've captured your shot. Rather than traditional style editing, this 'catch/release' method works quite well. The best part is that in the end, no editing is necessary because you've already 'edited in' multiple shots.
Is it really the next Instagram?
Hard to say. It's possible, thanks to the design of the app itself being solid. It's simple, easy to use and most notably, I can foresee it being a solid tool for businesses. Not only are people all about video, it's a good way to develop and personalize a brand. The potential is there.
Welcome to Reality...
Fact of the matter is, video sharing + Instagram has been done. One can't think of a social network for video without remembering SocialCam, Viddy and Color... you know... those other 'Instagram of Video' apps. Needless to say, the fact that there's another video sharing app trying to target the same niche market as those before it doesn't exactly bode well for capturing that still-elusive niche market.
The harsh truth is simply this: watching bad video is painful and for better or worse, most people are not closet-filmmakers underneath.
Bottom Line
Vine is well made. It's useable. You have nothing to lose by the free download. That in mind, I can't say I agree with it being the 'Instagram of Video' quite yet. The potential is there, but it's just that: potential. And when you're looking at a coveted niche that has been done and re-done without success, only time will tell if Vine will be the breakout star.
Leave a comment