Add to Favorites
Living Vycariously Is No Longer Limited to FaceBook & Twitter (or Instagram)

Nov 04, 2013
by
v(y)·car·i·ous (sic)
adjective
1. experienced in the imagination through the feelings or actions of another person.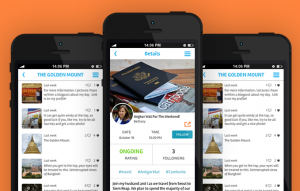 If you've ever dreamed of living vicariously through the experiences of your friends, you'll be thrilled to know there's a new app for that.
In a social media world that is seemingly already over-crowded, Vycarious is now available for iOS users who wish to create and share their own experiences, or, as the name suggests, live vicariously through that 3-week vacation of a friend.
More of the social media same? Well, yes & no.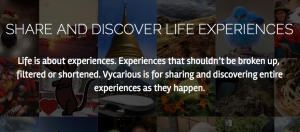 What sets it apart from Twitter, Facebook, Instagram… and numerous other apps which offer virtually the same things? As Vycarious CEO & co-founder, Rosalie Bartlett recently answered critics by musing that Vycarious offers users one thing those other apps do not: organization.
'With Twitter, it's tiny snippets. They have broken it down in to moments; they've condensed it. But there's no organization,' Bartlett recently told Mashable.
How does Vycarious work?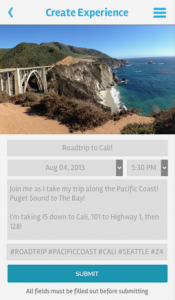 Choose an experience.
Users begin by creating a description of the experience they wish to share. Naturally, the next question becomes, 'Such as?'
Shopping at Target? Okay.
A day in the office of the Luna team? Needs to happen.
A first date? Sure, but could anyone actually get away with this and have hope for a second?
Create some ambiance.
Choices, choices...
Upload a video or a photo as the main image.
Decide on a starting date and time.
And of course, #hashtag it (aka make it searchable).
Hit the ground running.
Let's get going! In order to document and create a well rounded user experience, you'll want to continue to upload photos, videos, etc… until your allocated time period runs out.
Worthy mention:
Although you will no longer be able to contribute to your posted experience after its set time has lapsed, your friends can continue to live Vycariously for as long as you keep it alive on the site.
Let us live Vycariously through you!
Simply put, the Luna team would love to get a look into the lives of our followers. Whether you want to share the experience of shopping at Rite Aid on Broadway & 5th in Downtown Los Angeles, to shopping at a Walmart in a small town in Texas, to a first date at a number of Salt Lake City locales, there's few limits regarding what may be defined as an experience.
Let us live Vycariously by tweeting us or sending us your links via Facebook so we can get to you you better. Either way, we'd love to know what you think of the latest social network newcomer to enter the scene.
Leave a comment