Add to Favorites
7 Customer Service Techniques to Increase Customer Satisfaction

Jan 17, 2014
by
In the fast pace of today's global economy, customer service may be overlooked. After all, the client isn't always available for a face-to-face meeting; and, more often that not, work is being conducted remotely. This online atmosphere actually increases the need for customer service making it not only relevant but also vital to the success of a small to medium size business.
While customer service is practiced in a variety of forms, its fundamental elements can be broken down into easy to follow strategies. Implement the following 7 customer service techniques, and watch as your customers begin demonstrating a higher level of satisfaction and return for future business needs.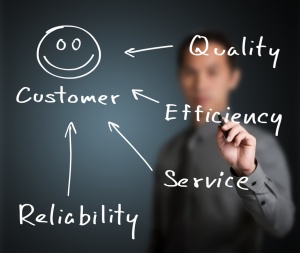 Attitude is key. Always treat each and every customer with kindness and respect. Be welcoming and engaging. Avoid attitudes of indifference as these are easily perceived by the customer and may hinder future business.
Develop strong relationships and foster an atmosphere of trust. Your customer should know that you do things when you say you are going to do them. If there is no trust in you as a company, they will begin turning towards your competitors.
Return phone calls. Answer emails. And, do so quickly and efficiently. While this is a simple technique, it is often not followed in today's hectic world.
Send thank-you cards. A handwritten, personalized note still has more impact and meaning than an email. It lets the customer know that they are worth your time and effort.
Appearance matters. Be it your personal dress or your website design, the customer's perception is affected. Don't succumb to temptations of free websites; because, as people, we do judge books by their covers.
Refer business to your customers. There is no possible way for every business to specialize in all topics. Instead find out which customer is the best in the industry and, as appropriate, refer other customers or associates to them. In so doing you will have further strengthened your relationship and developed a customer for life.
Try to eliminate, to the extent possible, the hassle factor for your customer. Work to make it easy and convenient for them to do business with you.
Always remember that repeat customers cost less than new customers. By practicing strong customer service skills, your business will not only increase their rate of return, but also bring in new business as referrals are made.
What types of customer service techniques does your company use?
Leave a comment