Add to Favorites
Retail Stores Ease Website Fears

Jul 10, 2015
by
As a software specialist at Lunasoft and working at the Lunasoft retail store, I have had many anxious people come in inquiring about starting a new website. A lot of them are nervous because they are not tech savvy and openly admit that they don't know how websites or the process of building one even works. But after spending just a few minutes in our retail store, almost everyone who comes in is reassured and ready to move forward with their project just because of what we emphasize with running a store front.
Legitimacy and Quality
Many are put to ease after first walking into the retail store because they realize that Lunasoft is an established brand with an eye for quality and the reputation to back it up. Quality and reassurance is so important with something like a website because it is your face online and this makes it a personal experience for our customers. Many of our store visitors have voiced concerns over people who have managed their website in the past, because they felt that they were unreliable and inaccessible. Therein lies the beauty of a retail store because you can come in at any time and speak with a person about whatever concerns you may have. We have made our business and support easily accessible and reliable with face to face customer service.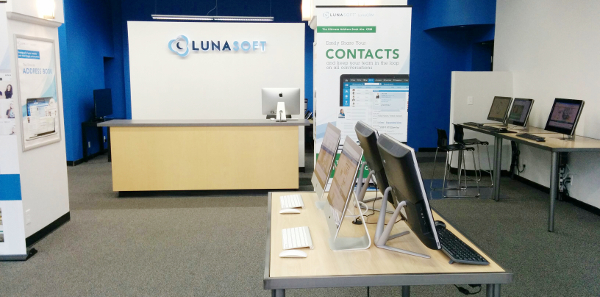 The Personal Touch
Many times, I am posed with this hard-hitting question asked by a skeptical prospective customer, "Why should I go with you? What sets you apart from online web-builders like Wix or Weebly?" Among one of the first things I emphasize is the fact that they are in a retail store where they can get face to face support. They quickly agree, because they know how frustrating it can be to call the support for online web agencies and to deal with lots of different people before resolving one issue. This business concept that we have extablished with the opening our retail store goes a long way, just because face to face customer service makes your life and business that much easier.
Have you had a nice experience visiting the Lunasoft retail store? If so, please share your thoughts in a comment below! If not, we invite you to visit us!
Leave a comment