Content Management Systems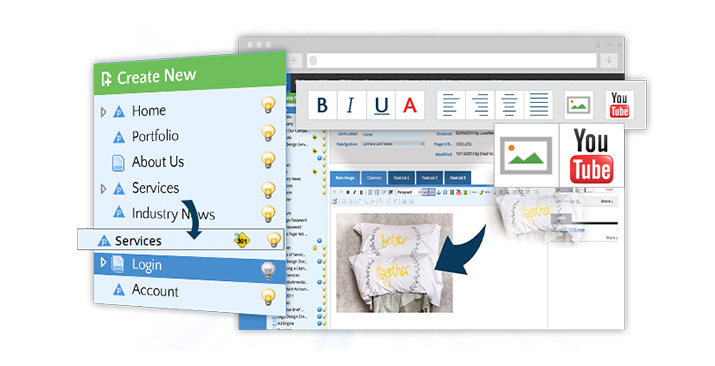 LunaSoft.com (our parent company) has a very simple to use and clean content management system. We believe in Smarter Websites™ that make it easy to market & manage your Small Busienss. With our proprietary CMS you are able to easily build web pages, sub pages, categorize your pages, upload images, files (Word Docs .DOC, Excel .XLS, PowerPoint .PPT, PDFs .PDF) and many other files to allow your users to view public and private data.
We can configure the content management system to work specifically for your organization based on your needs.
We would love to let you demo a live website at your convenience. Please contact us to learn more.
Luna's Simple Website content Management System
With a CMS you will be able to build an unlimited number of web pages, sub pages and categorize them accordingly. We create an administrator interface accessed by a secure login to allow you to update the pages of your website from anywhere you have an internet connection.
The web page manager is used for maintaining your website without the need to know web or programming languages such as xhtml or CSS. It will allow you to create unlimited "static "pages, all of which will be created with a content editor. In addition to page creation – the CMS supports on page Search Engine Optimization – allowing editing Meta-tag title, key words and descriptions as well as deleting or editing existing pages. It will allow you to manage content, images, basic formatting of text, colors, tables and many other features. Key features include:

Page Builder

Ability to build web pages
Ability to add/edit/delete content of existing pages
Pages and sub-pages are ordered as they appear on the website (i.e. main pages grouped together with sub pages.
Creation of unlimited menu independent pages to be accessible through hyper links from within any page.
Drag and drop reorder of page menu
Set pages public or inactive until ready to display
Sub Pages and sub-sub pages – automatic indents/Style bullets based on CSS
Automatic collapsible categories for user display
Set pages to appear on

Footer navigation
Primary – main navigation
Both Primary or Footer
Left navigation

Regions – ability to edit specific areas of page through database regions so CSS style keeps site look and feel consistent
WYSIWIG

A powerful WYSIWYG (MS Word like) content editor enables user to edit content with the following key features:
Content formatting, alignment, spell check, tables, styles and colors.
Support for importing content directly from word (with or without formatting).
Using html to create more advanced page content.
Supports importing of images, external flash, YouTube video and various document formats.


Users

User Authentication
Secure login by email and password
User Permissions

User permissions can be limited by site administrator(s). Some permissions include:

Ability to access CMS section
Ability to add/edit/delete pages
Ability to view CMS reporting
Ability to make pages public


File Manager

Ability to upload MS Word, PowerPoint, Excel, PDF and many other file formats
Ability to upload images such as Jpeg, GIF, BMP, PNG and many others
Ability to upload media files such as AVI, Quicktime, Mpeg and more.
Ability to link to these files from a web page
Category Structure of files for easy organization


Multi-Media

YouTube video embedding
Flash SWF file embedding
Upload and embed images

Automatic resizing of images to

Thumbnail
Medium
Large
X-Large

Ability to link images to url or larger images automatically


SEO – Search Engine Optimization

Ability to set and edit each web browser page title, menu name, description and meta tags information.

Meta Title, Keywords, Description
Ability to define page URL
A HREF title
Ability to set image ALT tags
Google Sitemap - Optional ability to set Sitemap.xml for google
Optional ability to create automatic dynamic sitemap of all pages


CMS Search Engine

Ability to search all content of pages built with cms
User can type in keywords and view results of pages in order of relevance.


Visitor Tracking and Analytics (site statistics)

Visitor Statistics and Tracking
Referrer Tracking
Keyword Phrase Tracking
Page Views
Keyword Search
Filtering, Sorting by column
View Visitors by page
View visits by IP
View visits by date range
Visit length tracking
Raw logs
Search Engine keyword stats
Links from external URLs
Other Advanced CMS Features
Secure Pages/Password Protection

Ability to add secure pages with username/password protection
Ability to create user groups
Ability to assign users to groups
Ability to limit access of pages to groups

Layouts

Ability to choose layout from designed home/sub

URL Rewrites

Page URL will be rewritten with mod_rewrite for friendly URLs.
Page will appear in the browser url as page.php or page without the html / php extension.