LunaWebs.com Selected as One of The Leading Web Designers of Salt Lake City
LUNAWEBS.COM Receives 2009 Best of Salt Lake City Award --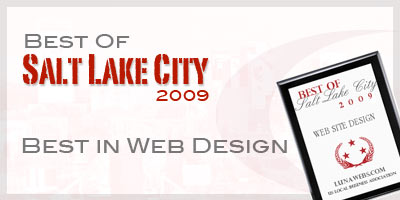 U.S. Local Business Association's Award Plaque Honors the Achievement
WASHINGTON D.C., March 20, 2009 -- LUNAWEBS.COM has been elected for the 2009 Best of Salt Lake City Award in Web Site Design, for the second consecutive year, by the U.S. Local Business Association (USLBA).
"We have a talented team who specializes in custom creative design and programming that really enable us to meet every client's expectations. Even our consultations, proposals, and initial discovery phase are tailored and analyzed to develop truly custom websites that take our client's to the next level." Shad Vick, CEO.
The USLBA "Best of Local Business" Award Program recognizes outstanding local businesses throughout the country. Each year, the USLBA identifies companies through various sources of information both internally by USLBA and third parties. The companies selected have achieved exceptional marketing success in their local community and business category. These are local companies that enhance the positive image of small business through service to their customers and community.
About LunaWebs
LunaWebs.com was incorporated in 2005 and is located in the heart of downtown Salt Lake City, Utah. Specializing in services that range from website development, SEO, print, and multimedia services; there are very few projects they shy away from. The talented Luna Webs team aggressively seeks expansion, creativity, and explores innovative trends that makes them a competitive web design firm worth considering on nearly any project.
Contact:
LunaWebs.com
801 755-9966
http://www.lunawebs.com
###