Jaw and Facial Pain Clinic - Dr. James Guinn, DMD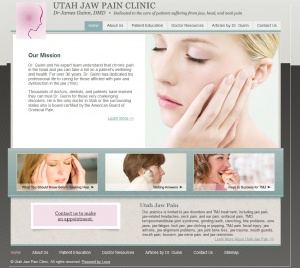 Jaw And Facial Pain - Focusing on TMJ Disorders for over 30 years
Salt Lake City and the intermountain west are home to thousands of doctors and dentists. Over 800 of these medical professionals refer their patients to Dr Guinn, at the Utah Jaw Pain Clinic.
Dr. James Guinn is a Doctor of Medical Dentistry and specializes in jaw disorders and facial pain, such as TMJ disorders. Dr. Guinn has been been focusing on TMJ disorders, and has been a specialist in the field for over 30 years. He has dedicated his entire practice to the specialization of jaw and facial pain.
The Utah Jaw Pain Clinic currently ranks in the number one position for keywords that are highly relevant to his industry and dental practice. Lunawebs provides onsite optimization of the Utah Jaw Pain Clinic, as well as market research, keyword research, and off site promotion which has led the Utah Jaw Pain Clinic to the top of the search pages.
Dr. Guinn's dentistry practice continues to advance in the search engine rankings, where his strong reputation as a Doctor of Medical Dentistry flourishes.