Noodle Masterpiece Comes to the iPhone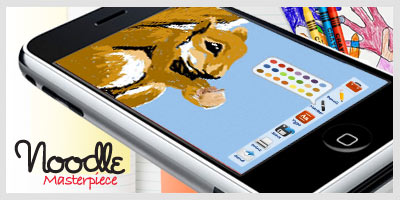 Salt Lake City, UT, May 1, 2010 -- Noodle Masterpiece is LunaWebs flash application aimed at children and the young at heart. NoodleMasterpiece.com provides a place to get creative the old-fashioned way, with construction paper, noodles, markers and more, without out all the mess you would have to clean up afterwards. The application allows you to drag various pastas, grains, nuts, and bolts onto a construction paper background, and position them however you want. Add "marker" drawings and text for a truly unique creation. The limit is your imagination. The best part is you get to share your creation with friends and the Noodle Masterpiece community when you're done.
Now Noodle Masterpiece has come to the iPhone. Luna became a registered member of the Apple iPhone Developer Program in order to create the Noodle Masterpiece app in house. The process involved learning how to design and code for the iPhone, and complying with the Apple App store guidelines for documentation and sales.
The result is a handy mobile app that retains all the fun of the original. Use it when you're waiting around and bored, or hand it to your kids to keep them occupied during a long drive. The app is easy to use, and children will love being able to drag materials around the screen. When you're done, you can still save your creation and even share it with friends.
About LunaWebs
LunaWebs.com is a thriving web design firm based in Salt Lake City, Utah dedicated to developing "Clean, Simple and Easy" websites. In addition, they provide a variety of competitive services including: online marketing, print design, multimedia and video production. Their success is driven by a passionate team, who continually seek improved client services, innovation, and truly customized applications.
Contact:
LunaWebs.com
801 755-9966
http://www.lunawebs.com
###