Bridal Veil Creations - Custom Shopping Cart
Case Study.
Project Challenge
BridalVeilCreations.com is an online store which sells wedding veils and wedding accessories. In addition to a complete redesign the site also required a robust shopping cart with real time credit card processing. Customers need to be able to easily browse for products and login to view their order status. The site also needed a custom veil creator, or calculator, which allowed customers to build their own veil.The LunaWebs.com team saw the need for a full featured shopping cart integrated with a custom veil creator.

The first task was to create a way to easily track and manage customers, individual orders, and products. Next we implemented a categorization section so users could easily add products to multiple categories.
For the products section we wanted to provide the client extreme flexibility. Products can have multiple customization options included with them, which is ideal for allowing the visitor to choose colors, quantities and sizes among other things.
In addition we implemented order management and tracking. When dealing with customers an administrator can track all orders associated with one customer as well as have access to their contact information. Individual orders can be updated and have the option to automatically email customers when updates are made.
The final piece was to integrate the custom veil creation tool. This tool lets a customer choose an option from a drop down and immediately see pictures and the price of the finished veil. The LunaWebs team wanted it to be easy and seamless for customers to use. A bride can easily create her veil, add it to her shopping cart and continue shopping for the perfect accessories.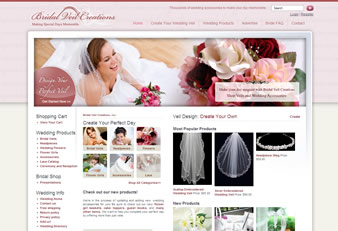 BridalVeilCreations.com Main Page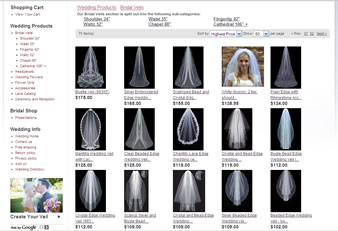 Veil Shopping Cart