KindredOAK.com - Upscale Design, e-Commerce & Traffic Retention
Case Study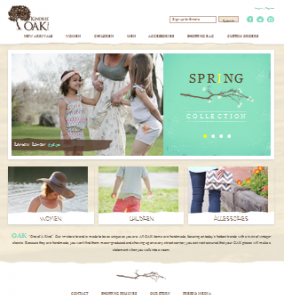 Project Challenge
KindredOAK is truly 'One (of) A Kind'. With a variety of clothing and accessories for women and children, the brand takes pride in offering unique, handmade pieces that focus on the hottest fashion trends with a vintage twist.
The KindredOAK team initially contacted Luna with a simple request: in addition to a more professional design, they were in need of the ability to accept online payments using a direct checkout method. Finally, they were also worried about making a move from their ETSY store and on to a new platform. The kicker? As a small business, they were working within a strict budget, making custom software development out of reach.

Understandably, KindredOAK was concerned about the potentially losing their current clientele, should they move from an ETSY store to a new website.
With that in mind, the Luna team went to work designing the new KindredOAK site. In doing so, one challenge we faced was in making sure the new design maintained a similar aesthetic so as not to alienate KindredOAK's long-time clients. At the same time, it was equally important to offer enhancements that would provide a more professional brand image to aid in business growth.
Next, we began the process of implementing the direct checkout function, which was done by customizing Luna's commercial grade e-commerce shopping cart solution so that it would suit the needs of KindredOAK.
Result? KindredOAK's creator, Paige, is thrilled! She recently told us that not only does she love the site, her business has more than doubled since the move to the new platform. Way to go KindredOAK!
For more information about OAK products, check out KindredOAK at: www.kindredoak.com.