Seniors Blue Book - Custom Directory
Case Study.
Project Challenge
Seniors Blue Book provides printed directories of resources for seniors for 14 metropolitan areas across the United States. They came to LunaWebs.com in need of a complimentary website that will allow seniors to search for everything from medical care, to housing, to activities in their area. The directory needed to be broken down by location and by category and be easy to use. The LunaWebs team got right to work.

LunaWebs.com custom created a diverse directory system for Seniors Blue Book. The directory allows easy browsing at a glance. Listings can be categorized as basic or premium which dictates the amount of information on a business that will be displayed for a user. Premium listings are clickable and take the user to another page where they can view detailed information about the service, a map, and make use of a contact form. There is also an option to compare listings so users can see a side by side comparison of services.
Keeping in mind the target audience the site is laid out to best benefit seniors. The team provided an option for enlarging the text throughout the site to ensure that it can easily be read by the entire demographic. A "Fast Find" box right on the homepage also provides easy access to listings in the location and category of the user's choice. The prominent display means users don't have to spend their time searching, but instead can get right into browsing available resources.
SeniorsBlueBook.com is a full featured site that encompasses not only a robust directory but a range of information and resources for seniors. The focus in design was ease of use and target audience to provide a pleasing experience for users.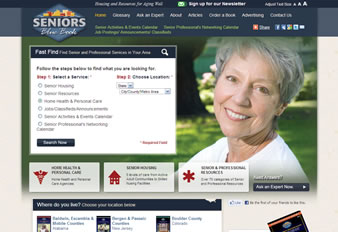 Seniors Blue Book Main Page
Premium Listing showing amenities and custom search options