Flash Actionscript /
Iphone Development
Case Study - NoodleMasterPiece.com
Project Challenge
Noodles, construction paper and glue. Remember when you were in pre-school and early elementary school? The teacher would pass out construction paper, glue, noodles and pinto beans to the whole class. Then it was up to you to create the masterpiece.
These items were the inspiration for Noodle Masterpiece. Our goal was to create an easy to use online application that appealed to kids and the kid at heart. We recognized the need for safe and fun place for children to play online. We wanted to create an application that could easily translate to multiple media sources including the web, iPhone/iPod Touch, and other mobile environments. Noodle Masterpiece would be a modern incarnation of a classic craft.

First we created a few image mockups so we could ensure all the elements could be programmed in. We then built a working prototype in a simple language (JavaScript) to show the movement of drag and drop as well as color changing. As a certified iPhone App Developer, we were able to create a first version of the app and get it onto the Apple Apps Store - iTunes. Drawing on previous success of media rich websites including websites like www.snobbymail.com and www.drinkyournutrition.com, LunaWebs developed an immersive multimedia experience. Luna developed the concept and managed the entire project including custom design, Flash Actionscript, PHP development and Apple Xcode for the iPhone application.
Luna designed the site to be reminiscent of a messy art table with littered with crayons and glue. The Flash Actionscript took this craft to the next level. Users have the ability to create their masterpieces using a variety of objects. A user can print, save and email their masterpiece. PHP was used to interface with the Actionscript to create a dynamic gallery where you can comment on other masterpieces.
We then added a social media component where users could save their masterpiece and send it to a friend. Then users can come back and "browse" all masterpieces in the Noodle Gallery. Users can also comment on the pictures creating unique content for Google and other search engines to index. The site has not been launched to the public yes as we have a 2nd version shortly coming out - but a working version is available for sale on the itunes store and for free at www.noodlemasterpiece.com.
Noodle Masterpiece has become the online/mobile craft table of the future. Noodle Masterpiece is a no mess solution to develop kids imaginations and to keep them busy for hours.
Related Projects


Iphone & Ipod Touch Application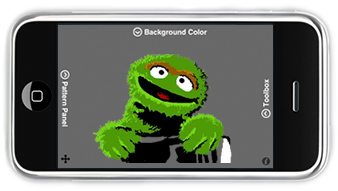 Create Your Own Masterpiece (Flash ActionScript for the Web)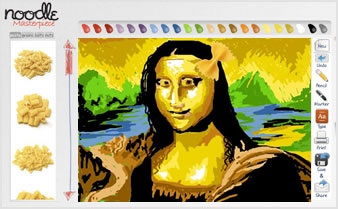 Browse All Masterpieces (web view of other's masterpieces)