MidNyte.tv - Video Production
Case Study.
Project Challenge
How do you produce a weekly web series that also appears on television? How do you do it on a compressed schedule? Can it be quality under such conditions? These were the questions we had to answer to create Midnyte, an episodic series that would play out over 12 weeks.
An opportunity presented itself when we learned Comcast's Utah On Demand was looking for locally produced content. Seeing that the typical projects were informational (news, sports, religious) we decided to try something no one else had: a narrative series.
That was early in January of 2009. Seeing that Friday the 13th of March was coming, we decided to go with a suspense thriller. This meant a lot of work in a short amount of time, and a sliding production/release schedule. The clock was ticking.

Pre-Production
The first thing we knew we needed was website, not only to post the episodes, but for extra content documenting the process. It went up in one day, giving the show a central place for information and updates.
A script was drafted in record time, and auditions were held on January 29th. A large pool of local talent emerged, with over 80 actors showing up to read for 8 parts. We were impressed by the quality we saw and held callbacks soon after. Soon after, our cast was excited and ready to start principal photography.
We still needed locations. We had begun scouting around the city (the story takes place in a deserted Metropolitan area of unknown origin) and found almost all of our locations around the Lunawebs offices. An alley, a roof, a lobby, and a plaza were all within walking distance.
Storyboards and shot lists were created. Going from the screenplay, these were "comic books" of the story, illustrating how each shot would look before it was actually shot. This would give us a plan and help to prevent wasted time on set.
Production
Shooting started at noon on February 19th. With a small but dedicated crew, we began working our way through a shooting schedule that accommodated everyone's very diverse schedule. We shot everything for the first five episodes in five shooting days (give or take an extra day). We continued to follow our schedule, but also had to give time for editing, as the first episode release date was looming fast. Shooting would continue into the middle of April.
Post-Production
The editing process consisted of two separate parts: the literal cutting of the show and musical scoring. The basic edit had to achieve "picture lock" before the composer could touch it, so time was of the essence. Once the edit was locked, a file could be uploaded to be scored while we continued on the episode with effects, color correction and audio sweetening. After working with the composer to adjust the score as we saw fit, we then married the music with picture and sound for the final cut.
Release
Episode 1 of Midnyte (entitled "Genesis") was made available to the public on March 13th, 2009. It appeared on Comcast, YouTube and the official Midnyte website. Every Friday a new episode appeared until the show ran its 12 episode course. Comcast viewers averaged 1,000 per week with slightly fewer watching on YouTube (coming directly from the website or YouTube itself).
City Weekly called Midnyte a "mystery/thriller [which] follows a group of women inexplicably trapped in the desolate netherworld of downtown Salt Lake City … wringing a decent amount of suspense and dread out of its kinetic bursts."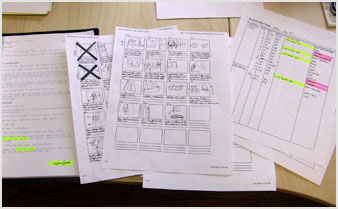 Pre-Production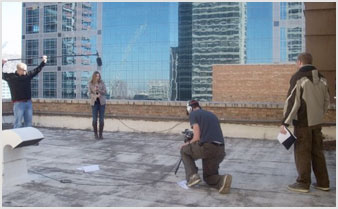 Production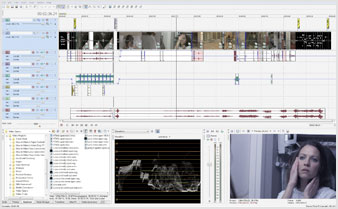 Post-Production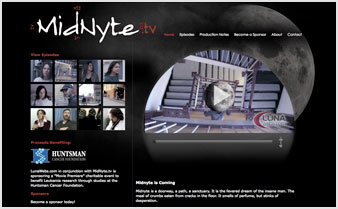 Release/Branding