Case Study: Tilt My Blinds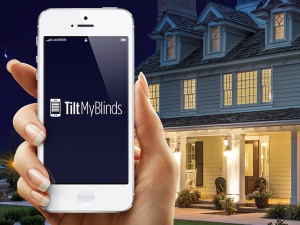 Remember that time you were sitting on your couch watching your favorite television program, and then the sun turned a corner and a glare the size of Montana started live streaming through your eyes? You really wanted to turn down the blinds, but you had just sat down with a huge bowl of popcorn. What to do?
One of our newest clients, Tilt My Blinds, has developed a product/software combination that now allows you to automate the blinds throughout your house, and all you need is an app to customize the functionality to your liking. When they came to us, they had everything packaged to go; but, they needed a beautiful website to compliment a kickstarter campaign, which would ultimately provide the seed money to get the business off the ground.
Project Challenge
We thought about our options for quite some time, as a crowd-funding campaign can be tricky. If one piece of the campaign has a hole, then the majority of funders would simply fall through it. The website needed not to over complicate the product, but to properly feature it in a fashion that conveys it's need to potential consumers.


After going through a few revisions, we came up with a design. It featured a typical product-based homepage, but it just didn't seem to get the message across. It was a house, but how would anyone know that the blinds were automated? In order to solve that problem, our engineers constructed an animation that makes the blinds move! Seriously, check it out here.
The clean, easy to navigate, design was solid enough to make a user look closer, only to be intrigued as the motion begins. To be fair to our client, Tilt My Blinds has created an amazing product that is sure to take off as they move into the final stages of their launch, but we are very proud to call them a client and we are proud of our development team for creating a product that assisted them in exceeding their goal of 50K USD.
When you're ready for automated blinds, give them a call. When you're ready for a pristine website that is clean, simple, and easy, we're ready to help.