NoodleMasterpiece:
Flash ActionScript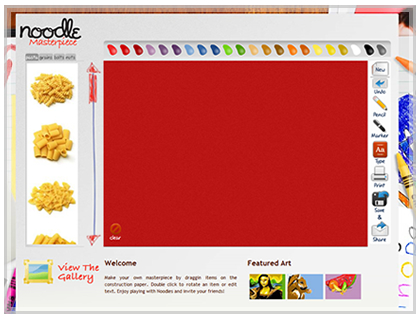 Technology: FLASH - ActionScript
Type: Flash Game Bitmap Converter
Users love to draw and make their own masterpieces. Remember when you were a little kid in kindergarten? You teacher would pass out construction paper to the students with a jar full of noodles and other goodies. Glue in hand, you pasted each item carefully to get your own noodlemasterpiece! This was the premise for our Flash online version. The challenge - allow users to paint, type, draw, drag and rotate images and make the flash objects appear as a jpeg image so users can view a gallery for viral purposes.