TRADE SHOW DISPLAY PACKAGES
Exhibit Display Packages - RLA Conference & Expo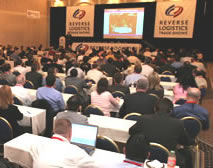 LunaWebs has partnered with Reverse Logistics Association to offer preferred pricing for Reverse Logistics Conference and Expo Exhibitors and Sponsors.
These rates are ONLY valid for confirmed Reverse Logistics Conference & Expo Exhibitors and Sponsors and are not offered to the general public.
All packages include exhibit displays (frame and fabric/graphic), carrying case/bag, printing of the graphic and graphic design services. All you need to provide is your logo in vector format, bullet points/copy marketing your services and any photos you may wish to include. We will also do photo searches through our library of stock photography if your photo assets are limited.

All packages can be checked onto a plane.
Our Most Popular Packages:
Tension Fabric Wall Package 10 x 8' Booth
Fabric Pop-Up Mural 10 x 8' Booth
Adjustable Frame Backdrop Banner