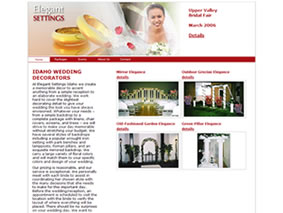 Technology: PHP - HTML - CSS
Type: Website Design
This consulting firm for middle-market business acquisition in the Rocky Mountain and West Coast regions had a website but needed to freshen up their look.
By continuing the brand of their logo with some graphical elements - we were also able to help the user understand the company message.
ELEGANT SETTINGS - WEDDING DECORATING
Web Site Design
As a small business often funds are limited at first. Upper Valley wedding decorating chose to build a site that catered to its' market - (brides and grooms), that would not burst their budget.
The result - a smaller wedding decorator website with a bright, professional look.